Stalybridge Celtic Juniors FC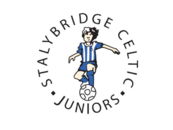 Stalybridge Celtic Juniors FC
A volunteer-run football club for players of all abilities since 1975. An FA Charter Standard Development Club
News Report
''Congratulations - Your Club is Among the Country's Best''
Author: Liam Whitehead, 07/05/18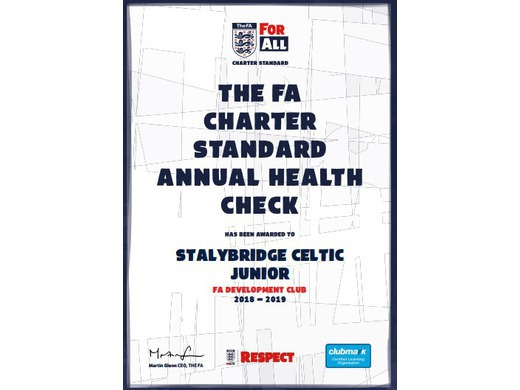 ''Congratulations - Your Club is Among the Country's Best'' Charter Standard Development Club Success for Celtic Juniors. We are delighted to have again achieved FA Charter Standard Development Club status for the 2018/19 season.
Criteria include:
Having an FA-trained Club Welfare Officer
An FA Level 1 coach for each youth team (U18 and below)
Criminal Record Checks (CRC) for all volunteers involved in youth football teams
FA Emergency Aid-trained volunteers linked to each team
Sign-up to and deliver The FA's Respect programme
Appropriate administration governance in place – in relation to the club's size
An FA Charter Standard Co-ordinator recruited for each club.
Additional Development Club criteria:

A minimum of five teams covering at least four different age groups
A Football Development Plan for three to five years
At least one Level 2 coach coaching one of the teams
At least one coach who has attended the FA Youth Award Module 1, coaching one of the teams.
Overall, FA Charter Standard status is a clear demonstration to all parents, sponsors and the public, that a club:
Is well-organised, safe and offers opportunities for all
Has FA-qualified coaches as standard
Adheres to FA Respect Policies and Codes of Conduct
Prioritises Child Welfare
Maintains appropriate levels of discipline
Has access to the County FA and FA regional workforces
Can use the coveted FA 'Three Lions' FA crest on its marketing and business materials
As a club run entirely by volunteers we are delighted to have achieved FA Charter Standard Development Club status. This is thanks to the tireless amount of work put in by our volunteers, especially in this case club secretary Carl Whitehead, club welfare officer Nic Jackson and club chairman Garry Pearce. Hundreds of hours of work go on behind the scenes to ensure we meet the strict criteria set out by the FA to achieve this status. As a club we couldn't be prouder!
Follow the site to get the latest news and results straight to your email