Stalybridge Celtic Juniors FC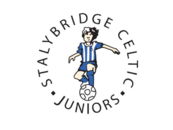 Stalybridge Celtic Juniors FC
A volunteer-run football club for players of all abilities since 1975. An FA Charter Standard Development Club
News Report
Cursin' Ashton
Author: Graham M, 15/04/18
It may have been the Grand National later on the but the Blues just weren't at the races today. In a carbon copy of the match 5 months ago the Blues dominated the opening exchanges but came away empty handed and our keeper Jack took the Man of the Match trophy home again. Will was missing today and his workrate and influence in a defensive/midfield role would have been a massive boost for us.
Harlee had a cracking first half in terms of tracking back and linking with Elliot and then bringing the ball out up the line, Mason and then later George when added put the their defence and keeper under constant pressure as Curzon like to play out from the back. A speculative attempt from fully 25 yards beat Jack who would have struggled to reach even if he was a foot taller- credit to the goal scorer though for a great strike. Jody was under pressure several times as Curzon's breaks went via their left wing regularly and he coped admirably against a tricky and pacy winger. Zak really had a double handful today but he still won more tackles than he lost but in such a busy midfield area we just couldn't get the ball wide to Corey and Lewis regularly enough for them to show their pace and when we did go wide sometimes the pass was just overhit slightly or misplaced.
Second half we held our own and desperately searched for an equaliser. We ultimately gambled on Lewis as lone man at the back to release an additional midfielder but were punished on the break twice, one an unfortunate rebound off the post and the final score may have flattered Ashton slightly. The lads shoulders dropped noticeably after conceding the second but I have to mention George who sometimes gets visibly frustrated when things don't fall his way but he battled and closed down everything up to the final whistle.
In summary not the best end to the season but this was our first full season in the Premier League and credit to the lads who put their heart and soul into every match. Massive thanks and respect to the coaching team of Callum, Adelle and Adam who have not only created but managed to maintain a team now with a firm footing in the top flight.
Team: Jody(C), Jack, Elliot, Lewis, Harlee, Corey, Zak, Mason, George Man of the Match: Jack
Follow the site to get the latest news and results straight to your email