Stalybridge Celtic Juniors FC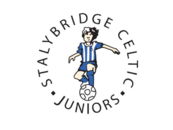 Stalybridge Celtic Juniors FC
A volunteer-run football club for players of all abilities since 1975. An FA Charter Standard Development Club
News Report
Elite in Parts
Author: George Hayworth, 18/02/18
With the rain seemingly at bay for the Whites match it was anything but as dull and boring as the weather. Rampant in the 1st 15 minutes, Elite were struggling to get a grip of a pacy forward line with Fin at the spearhead.
With the absence of H, Joe nestled in alongside Billy and the back pairing looked solid and to read the game well. This allowed Colts to push forward down the left wing. Archie dogged and resilient again in the centre mid led to the first break through. Never give up is the classic attitude here. The Elite keeper was jittery with Fin bearing down on him and he forced the mistake.
Charlies passion for the game is helping him to become stronger and a physical presence that is needed in this league is developing in him. As we seem to forget this team is still in its developmental stages after a turbulent few years. Helping players maximise their strengths is key.
As we know Elite are a dominant passing side with width and with all Celtics press they appeared to go abit floppy towards the end of the 1st/ beginning of the second half. Elite definitely dont need a second chance.
The game proceeded and it was clear a change needed to happen, as astute as Billy, who had time in the game to flourish and Joe had been it was time to let him stretch his legs and the switch paid dividends. Devon was feeling the pressure in net, saving with his feet, hands and anything in between to keep the scoreline at a standstill with a second 40 mins between the sticks to have that concentration is admirable.
The dominent press resumed in the final 10 and Elite were again scrambling, unfamiliarly but refreshingly Joe stepped up to take a stunning free kick, for a boy who is unneccesarily hard on himself this was a beauty to behold. Truth be told if they had been given a few more minutes the result could have been a complete flip.
Final Thought: The boys had a will to want to win today, something that should be applauded. For me they still have some massive oppurtunities around set pieces and dead balls where they give possession away to easily when they can be used to greater effect. As i said in my report they are really still in a developemental stage positionally they are still trying to find their key strengths and once this happens it will help them to focus more and give them more of an influence in games as they will know the position they are playing in inside out.
Team Sheet: Devon, Colts, Billy, Joe, Charlie, Archie (c), Fin, Lawson, Harley
MOTM: Devon
Follow the site to get the latest news and results straight to your email