Stalybridge Celtic Juniors FC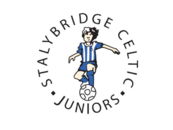 Stalybridge Celtic Juniors FC
A volunteer-run football club for players of all abilities since 1975. An FA Charter Standard Development Club
News Report
Elite Performance
Author: George Hayworth, 11/03/18
The thought of playing the runaway league team, primary cup finalists and one who play eye catching football is no doubt a daunting one. From the first whistle you could see Elites intent to push high up the field. Two near misses whistling the crossbar it felt as if they were just finding their range but Celtic weathered the storm and managed to string some promising attacks together down both flanks with the aid of Fin down the left tieing the Elite player in knots and Lawson who appeared fearless and invigorated down the right. Archie as always orchestrating events through the middle of the park.
To score quickly for the Celtic Whites was essential to steady nerves and allow them to play as we know they can. Harley having a clear sight on goal as Elites seemingly solid defence was caught out was only a pre cursor to what was about to happen, you could feel a wave of confidence running through the team and it wasnt long before Archie finished cooley and accurately.
Stoic defending from Billy and Colts smothered the talented Elite frontline and with our wingmen heroicly covering every blade of grass to add back up they could only try speculativelong range shots which Devon dealt with comfortably. Celtic managed to interchange defence into attack readily and expertly which knocked Elite all over the park, mostly chasing shadows.
With a change of personnel just before half time proved seemless as the boys maintained the intensity, momentum and quality. It appeared to have been as good a watch from the bench as it did on the pitch. Charlie utilised his great eye for threading a ball through the eye of a needle to unlock Elites defence for Harley to get on the scorecard. Seeing H back in the mix and at the heart of the defence he slotted in well, after Joes last two emphatic weeks it is clear to see his confidence is high as he was whiskers away from adding more from the right flank.
Final Thought: I dont think you could have seen a more stand out team performance from the boys, they showed just what they are capable of when they all turn up to the races. There were some individually stand out performances in the shape of Archies tantilising hattrick which was of the highest order and a defensive masterclass from Colts if ever there was a born leader in their midst he is ascerting himself into the role but overall non of this could have occured without every single one of them performing well together.
Making Elite (who have beaten every team in the Prem this season) retreat to be camped in their own half for most of the game was not something I expected to see but it happened. Keeping a clean sheet against Elite should also be a huge confidence boost for the boys going into the next game. Congratulations to the Celtic Whites, this game has been in the making for the last few weeks and I couldnt be prouder of all of them.
Team Sheet: Devon, Colts, Billy, H, Lawson (c), Fin, Joe, Archie, Charlie, Harley
MOTM: Archie
Follow the site to get the latest news and results straight to your email