Stalybridge Celtic Juniors FC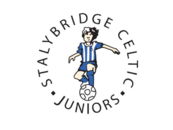 Stalybridge Celtic Juniors FC
A volunteer-run football club for players of all abilities since 1975. An FA Charter Standard Development Club
News Report
Normal service will be resumed as soon as possible
Author: Graham, 22/09/18
The lads started brightly enough and for the first 15 minutes more than held their own yet fate has a strange way of kicking us this season and it was a cruel double deflection that eventually broke the deadlock and the die was cast.

This is a new situation for the boys and coaches. We've all enjoyed watching them progress from Soccer School into firstly two and now one Premiership team with bags of quality led by some excellent coaching. This is new ground for us parents seeing the lads so quiet not just after each game but before and during it. They appear nervous and yet as we saw last week once they had scored they were flying again and got a second straight away. Likewise second half today we unluckily hit the post and once again it gave the lads a glimmer of confidence and for a brief period we could have scored a couple, we seemed to run more, with and without the ball and close down quicker.
As parents we just have to keep these lads smiling and their spirits up and the positivity and tactics will come from the coaches. Following on from last week's weather themed report it is worth remembering that things might be stormy now but it never rains forever.
Follow the site to get the latest news and results straight to your email