Stalybridge Celtic Juniors FC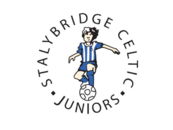 Stalybridge Celtic Juniors FC
A volunteer-run football club for players of all abilities since 1975. An FA Charter Standard Development Club
News Report
Volunteers Come Out In Force to Support Junior Club
Author: Liam Whitehead, 13/01/18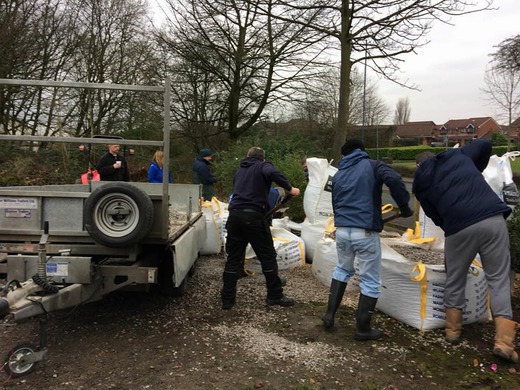 Following a call for help on social media over thirty volunteers turned up to help Stalybridge Celtic Juniors complete a drainage project at their home on Mossley Road.
The club's popular Saturday Soccer School, which regularly attracts over 100 boys and girls, has in recent years seen more and more sessions being forced to be cancelled because of the state of the pitch after bad weather. After an unsuccessful 'No More MUD' campaign for funding the club decided to pursue their ambition of adding drainage to the football pitches themselves during their winter break.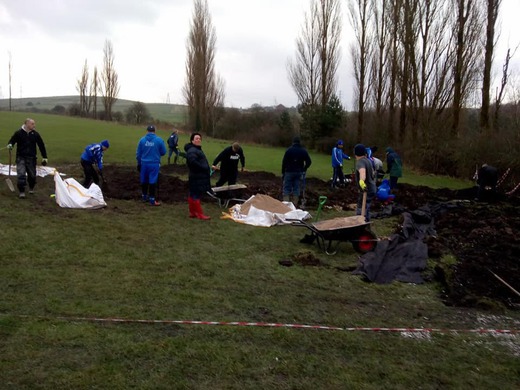 The drainage ditches were dug with the help of a digger, a task made harder following the discovery of hundreds of bricks under the surface most likely from the old Ladysmith Barracks. The plea for help was spread far and wide thanks to the club's strong following across social media and on Saturday 13 January over 30 volunteers turned up with wheel barrows, spades and shovels to help move 17 tons of gravel, sand and topsoil to bury the new drainage pipes. The helpers were also supported in the clubhouse with a steady supply of hot drinks and sandwiches at lunchtime.
Vice chairman Mike Taylor said "We have a great community spirit within the club and seeing so many volunteers come to help us with this project was great to see."
By the end of the day the job was complete and after a day of digging, shovelling and carrying everyone went home for a good rest! With the project complete the pitches should be in super condition for when the Soccer School re-opens the first Saturday of February and the entirely volunteer-run club's teams begin summer training in the evenings when the clocks go forward.
Follow the site to get the latest news and results straight to your email